Date/Time
Date(s) - October 4, 2019 - October 6, 2019
All Day
Categories No Categories
The Gompa
Founders Day 2019 Celebration
Founders' day celebration and internal arts workshops occur each October on the anniversary of the founding of the first school of Li family arts in the United States. Dr. John Painter opened the center in 1973 make it the oldest Gong Fu schools to teach openly in Texas. Students and instructors from around the world come to The Gompa in Arlington Texas to honor the founder of the art, Lama Zurdwang. Students and instructors participate in a special ceremony the Ku cha Yishi (苦茶儀式), rights of the bitter tea held Friday night and attend unique workshops Friday through Sunday.
Two Great Workshop Programs
Nyida Khajor Yoga & Tibetan Meditation Practice
This is called the Set of Nines Sun and Moon practice. The practice involves learning a Dzogchen method for improving visualization skills to harness the mind body connection. These methods are essential for any Qigong type healing, martial arts internal power and much more. We will then focus on the Tibetan Yantra yoga tactics of specialized whole body breathing for stimulating the brain and internal organs while improving the bodies healing potential.
Secrets of The Bending Willows
We will explore from the basic to advanced methods of Li family Willow Bends (Push-Hands). The course takes you from static, shifting stances to walking and circling methods of Li family push-hands for Taijiquan, Baguazhang and. We guarantee that you have never experienced push-hands in Baguazhang or Taijiquan quite like what will be presented in this program. This is a chance to take your skills to the next level the program includes:
          Rou-Liushu  柔柳樹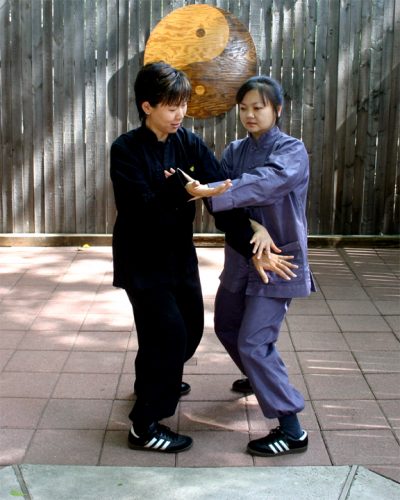 Supple willow (Sensing combat game in front stance). Here we play to develop our ting-jin聽勁 (listening skills) and much more. As the student improves, we also play blindfolded in each of the three levels discussed here.
          Zhixian Rou-Liushu 直線柔柳樹
Straight line supple willow game similar to Tui Shou push-hands standing and shifting forward and back with a partner. Advanced versions played on balance beams for achieving greater rooting skill.
          Yidong Bu Rou-Liushu 移動步 柔柳樹
Here we play the game while walking in both linear and circular fashion attempting to apply various palms in the form of locks and controls. Yidong Bu Rou-Liushu  is a form of moving step Willow Bends similar to Li family An-zhang Fa  按掌 法 push palm method except in Yidong Bu Rou-Liushu we focus on gentle flowing actions to guide our partner into locks and positions that compromise his or her balance. Photo shown is Dr. John Painter playing the game with late master Lu, Hung Bin.
Celebration begins at 12:00 noon October 4th and ends at 12:00 noon October 6th
This event is open to all students of Li family arts, friends and interested individuals.
Prices for Founders Day Workshops
Jiulong Certified Instructors and Assistants             $150.00
Gompa Students and Branch School Students        $175.00
Guests and Non-Students                                        $200.00
Friday Evening Ku cha Yishi Rights of the Bitter Tea Ceremony – Free to all
For More Information E-mail  thegompa@aol.com